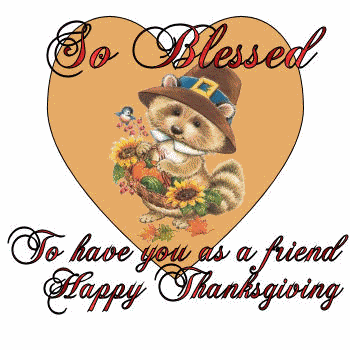 glitter-graphics.com
I think it's very important to be thankful and feel thankful for all the great blessings we've had in life. Surely, we also experience some rocky times. - then we're the least likely to feel thankful. But we shouldn't be. To me life would be meaningless if it was just a bed of roses. Hard times make us all feel stronger, don't they? That's how I take hardships. A friend of mine was diagnosed with breast cancer , last week. She called me and said she'd love to buy me a coffee. Over coffee, she told me about her health problem. But she was smiling and said she'd be forever thankful for having such a great doctor, a great family and great friends.
I feel thankful for being healthy and happily married, I also feel thankful for being my own boss, and for the sheer joy of working with children! They're adorable! And they always make my day! I feel thankful and proud of having the coolest students ever! They may be testing my patience at times, but I love them all! To me feeling thankful is an inner need, and blogging made me realise how silly I was to spend time on the chat where most people would make you feel bad because you apologise or because you are thankful. If I need to apologise online or feel thankful, I will. We're humans, after all.
How does feeling thankful affect your life?