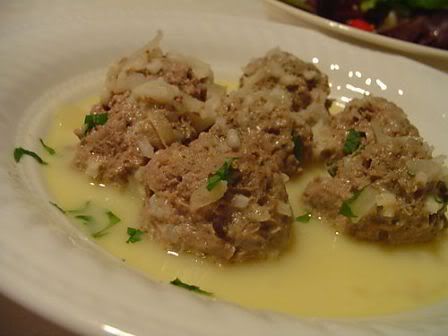 YOUVARLAKIA AVGOLEMONO - Boiled meat ball soup
Servings: 5
Ingredients:
3/4 Cup Bread Crumbs 
1 Pinch Dill To Taste
3 Whole Egg 
3/4 Cup Flour 
1/2 lb Ground Beef 
2 Whole Lemons Juiced
1 Pinch Mint To Taste
2-3 Tablespoon Olive Oil 
1 Medium Onion Finely Chopped
2-3 Pinch Parsley To Taste
1-2 Pinch Pepper To Taste
1/2 Cup Rice 
2-3 Pinch Salt To Taste
Directions:
Knead together the ground beef, rice, bread crumbs,onion and seasonings..
Form the mixture into small balls and roll them in the flour.
Put the balls in a pot of boiling water or stock and add the olive oil and a little lemon juice.
Cook for 25-30 minutes.
In a separate bowl, beat the eggs and while still beating, slowly add the remaining lemon juice.
Slowly beat in some stock from the pot.
Slowly add this mixture back into the pot with the meat balls and continue stirring for one or two minutes.
Do not let boil.
Serve hot.
Source: Youvarlakia Avgolemono