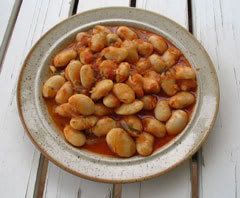 The cycle of the seasons influenced the development of Greek gastronomy, as well as the geographical position of each place and the alternation from fasting to meat eating as instructed by the Orthodox Church. Creativity and discovery utilize even the smallest part of production and the ingredients combined with wisdom and art, create delicious and balanced meals.

As a Greek saying goes  "everything in its own time and mackerel in August". With the development in technology and trade today we could enjoy whatever we want and whenever we want it. Yet, it is worth having a look at the gastronomical tradition of each place in Greece and  continue to restore the respect in nature that provides us openly with everything on time, which are delicious and mainly nutritional goods. We have much to gain by the nutritional food that is given to us and to find again the true Greek taste that has been lost in the abundance of ingredients and the so-called cooking prosperity.
Dried pulses are not only nutritional but also a healthy alternative to meat. An average Greek family will include dried pulses in their menu at least twice a week.
FASOLADA - THE GREEK BEAN SOUP
1 pound navy/white haricot beans, soaked overnight
1/2 cup olive oil.
2 cups chopped onions.
2 teaspoons minced garlic (optional.)
1 large carrot, chopped.
2 stalks celery including the leaves, chopped.
1 (6 oz.) can tomato puree.
3 quarts water.
1 cup chopped flat leaf parsley.
Salt and pepper to taste.
1. Sauté the onion, garlic, carrot, and celery in olive oil until limp. Add the tomato puree and the water. Bring to a boil. Drain the beans and add them. Add salt and pepper to taste. Simmer for about 2 hours, or until beans are tender. Add the parsley 15 minutes before removing from the heat.
2. You may add peeled and cubed potatoes too about 1/2 an hour before you want to serve it. This simmers away all day on the stove on a really low heat and the smell is amazing.
3. Fasolada is a very popular bean soup in Greece. It is usually eaten with feta cheese and crusty bread and is a real comfort food. It's a good, hearty soup and certainly fills you up!
The Best Traditional Recipes of Greek Cooking (Editions Haitalis)